Overview
Our Junior Kindergarten (JrK) program is designed to give children a solid foundation that will prepare them for future learning experiences in kindergarten and beyond. Enrollment in JrK is open to children who are four years old by September 1, fully potty-trained, and have the ability to sit for 10-15 minutes.
Junior Kindergarten (JrK)
Our Junior Kindergarten (JrK) program is designed for four-year-olds who are ready for a more comprehensive program than what preschool offers. It is also a Transitional Kindergarten (TK) for younger five-year-olds who may benefit from an extra year of learning before entering Kindergarten. The focus of JrK here at St. Mark's is on academic, social, and spiritual growth. We emphasize phonemic awareness and reading readiness using the creative Zoo-phonics program. In JrK, children enjoy sounding out simple words using age-appropriate methods (That means fun!). Other areas of learning in addition to language and literacy are: foundational math concepts, simple science experiments, Bible stories, music, arts/crafts, drama, and the development of motor and social skills. Following the leadership of a Christian teacher, children are guided daily toward good manners and kind behavior.
Optional Extended-day Childcare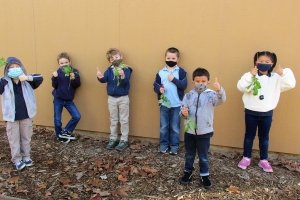 Our Junior Kindergarten program runs from 8:15am-11:45am.  Extended-day Childcare is available in three sessions:
7:00am-8:00am – At 8:00 the children are checked into their school classrooms.
*11:45am-3:00pm – JrK ends at 11:45.  This session of childcare is for JrK only.
3:00pm-6:00pm – At 3:00pm the school day ends for grades K-8.  Childcare continues with older kids.  Snack is provided.
*Junior Kindergarten children who extend their day from 11:45am-3:00pm spend the afternoon eating lunch, taking a nap, and playing indoors and out.